Hi guys! Happy holiday weekend to those of you for whom that applies. Happy regular weekend to everybody else.
So last month I was lucky enough to meet
Rachel Harris
as part of the
Mighty Mississippi Book Blast!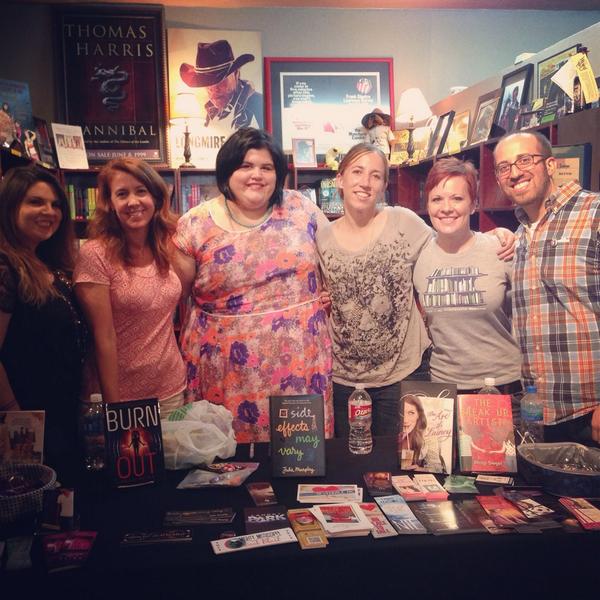 Team MMBB-Texas with blogger Sara S!
I love Rachel and her books a lot. See:
My first blurb (as my pen name): for A TALE OF TWO CENTURIES :)


I've already gotten to read her upcoming release
THE FINE ART OF PRETENDING
, and I loved that too! See:
What's it about? Well, it has a few similarities my own book,
THE ART OF LAINEY
(no wonder I loved it! Ha, just kidding...mostly :D), but they are definitely two totally different stories. Here's more about TFAOP:
According to the guys at Fairfield Academy, there are two types of girls: the kind you hook up with, and the kind you're friends with. Seventeen-year-old Alyssa Reed is the second type. And she hates it. With just one year left to change her rank, she devises a plan to become the first type by homecoming, and she sets her sights on the perfect date—Justin Carter, Fairfield Academy's biggest hottie and most notorious player.

With 57 days until the dance, Aly launches Operation Sex Appeal and sheds her tomboy image. The only thing left is for Justin actually to notice her. Enter best friend Brandon Taylor, the school's second biggest hottie, and now Aly's pretend boyfriend. With his help, elevating from "funny friend" to "tempting vixen" is only a matter of time.

But when everything goes according to plan, the inevitable "break up" leaves their friendship in shambles, and Aly and Brandon with feelings they can't explain. And the fake couple discovers pretending can sometimes cost you the one thing you never expected to want.
Because Rachel is awesome, she has given me a
signed
ARC of THE FINE ART OF PRETENDING to give away to one lucky winner!
And because I love giveaways, I'm going to throw in some extra prizes, including a copy of my latest release, the e-novella
INFINITE REPEAT
. This is a prequel to THE ART OF LAINEY from book-boyfriend and punk rock baker Micah Foster's POV, and can be read before or after the full novel. I'm also going to throw in a mystery ARC that I won off twitter not too long ago, and a swag pack full of bookmarks, buttons and other fun stuff from the #MMBB authors. Two runners up will also win #MMBB swag packs.
Actual swag received to include some of the pictured items plus more!
This contest is going to involve a lot of mailing costs so I've got to go US only on it. Sorry international peeps. You know I love you :) I love you so much that I'll be doing an international secondary contest for
YASH
in October where you can win an ARC of my forthcoming twisty murder mystery,
LIARS, INC.
Did you like GONE GIRL, I HUNT KILLERS, OR DANGEROUS BOYS? If so, you'll probably like LIARS too :)
Who's ready to win? BOOSH! The Rafflecopter is your friend :)
a Rafflecopter giveaway